Special Visit Premiums
How They Work & When to Use Them
Special Visit Premium Codes (SVPs) act like a bonus on top of your fee service codes. This incentive is used to compensate physicians who have specific specialties or sub-specialties or who provide care outside of their regular schedule. They can significantly increase your monthly revenue, however they can only be used in conjunction with an appropriate A-prefix consult or assessment fee. SVP's can also provide you extra earnings if you work on a holiday or weekend, see below for a list of holidays.
The Ministry of Health's Special Visit Premium dates observed.
They can be broken down into four time brackets:
Weekdays – Daytime (07:00 – 17:00) OR Weekdays – Daytime (07:00 – 17:00) with Sacrifice of Office Hours
Evenings – (17:00 – 24:00) Monday through Friday
Sat, Sun & Holidays (07:00 – 24:00)
Nights – (00:00 – 07:00)
They can be applied in 3 scenarios:
Travel Premium — applies when you travel from any place other than the hospital where the service is performed.
First Patient Seen — applies to your first patient seen. *If your shift spans past midnight, you can bill another 'first persons seen' for that new day.
Additional Person(s) seen — Remember to bill for each additional patient seen after you've billed your first patient, in chronological order – maxes out depending on department and time. (see schedule below)
Special Visit Premiums are department-specific, so they can be used by any specialty:
Emergency Department
Hospital Out-Patient Department
Hospital In-Patient
Long-Term Care Institution
Emergency Department by Emergency Department Physician
Special Visits to Patient's Home (other than Long-Term Care Institution)
Palliative Care Home Visit
Physician Office
Other (non-professional setting not listed)
Geriatric Home Visit
Obstetrical Delivery with Sacrifice of Office Hours
*Bolded are commonly used SVP's tables. See all Special Visit Premium tables here: http://www.health.gov.on.ca/en/pro/programs/ohip/sob/physserv/sob_master20160401.pdf#page=60
When you are providing a special visit service, proper documentation should be recorded:
Time
Department
Requested by (Physician or Nurse)
Travel – you can bill up to 2 travel premiums per day and 6 on weekends/holidays, but it must be documented that you left the facility grounds and had to return in order to receive payment for 2nd travel premium
First patient seen
Special Visit Premium Examples:
Example 1 – Being called in from home
Dr. Apple is called in to attend an ER consult on Friday at 12pm. He will bill:
Patient 1
A130 – consultation
K960 – travel premium – $36.40
K990 – first emergency patient seen – $20
He is then asked to consult on another patient while there, he bills:
Patient 2
A130 – consultation
K991 – additional emergency patients – $20
Tip If Dr. Apple admits either patient, he can also add the E082 Admission Premium to these claims.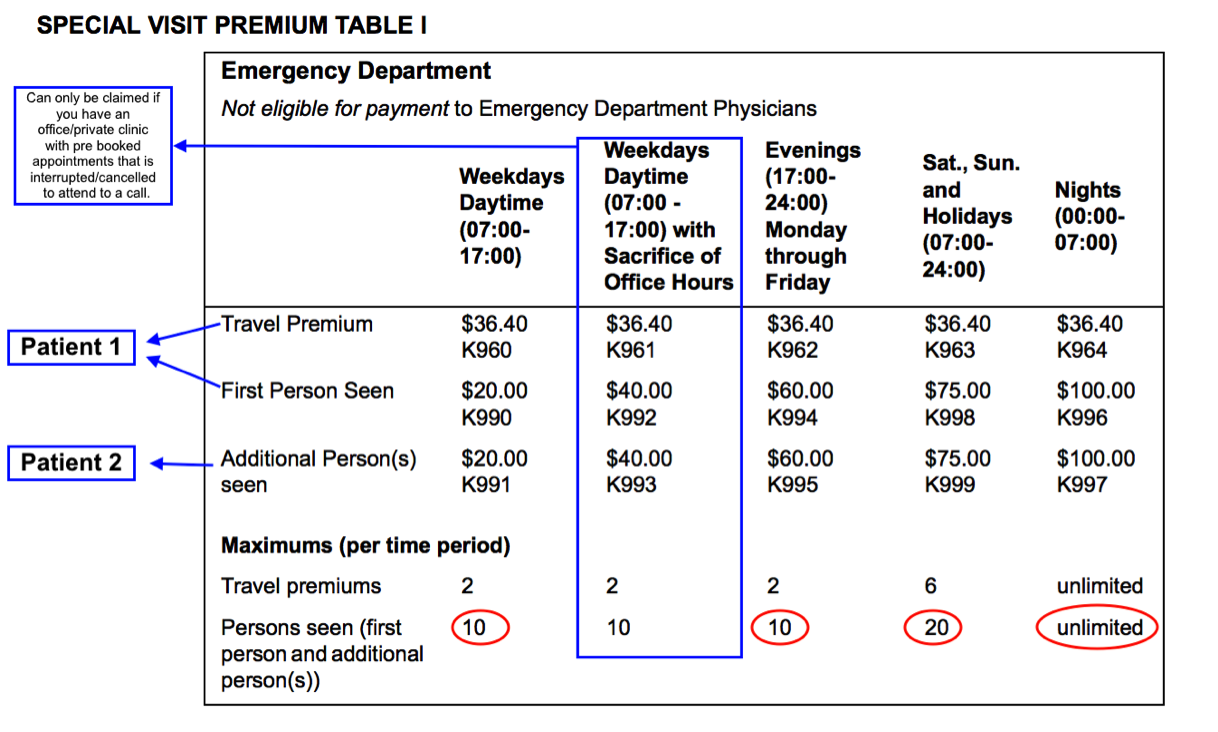 *Please note: each Special Visit Premium has a limited number of use, highlighted in red
Example 2 – Being called from within the hospital:
Dr. Apple gets called to consult on an in-patient. This is a first consult outside of his normal schedule of the day and the time is now 8pm. He will bill an A code from his General Listings:
Patient 1
A435 – consultation
C994 – first patient seen: evening – $60
* A travel premium is not applicable in this instance, as he is travelling within the hospital.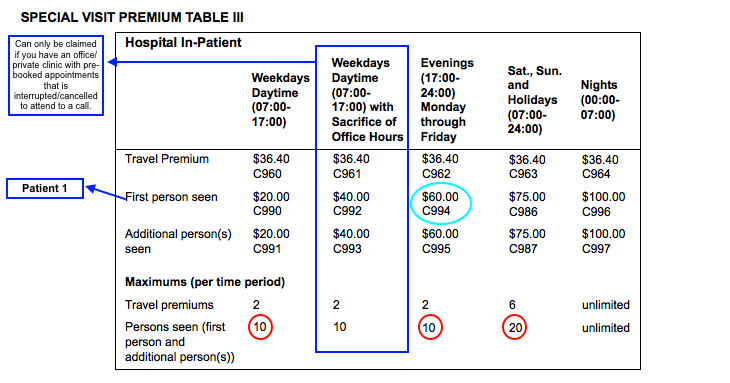 *Please note: each Special Visit Premium has a limited number of use, highlighted in red
For more information on Special Visit Premiums, visit the OHIP Fee Schedule: http://www.health.gov.on.ca/en/pro/programs/ohip/sob/physserv/sob_master20160401.pdf#page=60